Name: Kawa ( river) Tsubasa ( wing)
Gender: Female
Age: 11
Affiliate: Dragon Roost Island
Rank: Rank? You mean race? Rito
Powers (if any): gust type move
Weapon: wings
Looks: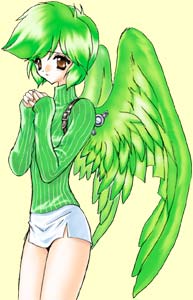 Ok its a small bird with light green hair thats up, welcoming green eyes, soft white feathers ( both wings and above skin),golden yellow beak, a brown thick string around the head, a white dress thats kinda dirty and the sleeves hang right below the shoulders, and she wears a red ribbon around her neck and keeping it tied is the Zora Saphire that was passed down to her.
Personality: She's kind, a little shy, and very loyal. Once she has been given a command, she almost always follows them. When someones in need she'll be there to help out. She's not even scared of the monsters that come by often.
History: Growing up, she learned about Medli the Earth Sage and the Zora race. Her first name, Kawa, was given to her because she longed to cross the sea, sail to every island. Her last name, well, she's a bird. She rarely flies, but she already had to get rid of a few chuchu's by having her wings come out and use a gust type move. When others have tried but failed to get rid of them, Kawa was there to bandage them up. Currently, and for a long time now, she looks out to the sea and the wonders that what in its depths.
Relationships: None
Anime: The Legend of Zelda: The Wind Waker